Welcome to the table – we're glad you're here
Experience the inter-connected pieces of food literacy through this free virtual cooking and nutrition series, find Community Connections, and Share Your Story with Us!
What is Food Literacy?
Food Skills and Feeling Confident
Influenced by Systems and Environments
Discover our top food and nutrition tips in these mini-episodes with our Registered Dietitians.

Explore Foods to Feel Well with Luisa (Transcript Here)
Refresh with Water: The Drink of Choice with Luisa (Transcript Here)
Chat about Protein Foods: Finding Balance with Lauren (Transcript Here)
Dive in deeper:
Try Label Reading to help make informed choices (Health Canada, Video)
Explore healthy eating information based in science with Canada's Food Guide
Find credible nutrition articles written by dietitians at unlockfood.ca
Join our chefs in these mini-episodes to create tasty, nourishing recipes and build on the skills you already have.
Wash Your Hands Well (Transcript Here)
Knife Skills Practice – Vegetable Prep (Tip Sheet)
Simmer a Hearty Homecooked Soup with Laura (Recipe Here) (Transcript Here)
Taste a Savoury Stir-fry with Elaine (Recipe Here) (Transcript Here)
Enjoy Pasta Puttanesca with Elaine, Audrey, and Carolyn (Recipe Here) (Transcript Here)
Try Fish en Papillote with Elaine (Recipe Here) (Transcript Here)
Eat Shepherd's Pie with Elaine (Recipe Here) (Transcript Here)
Make Roasted Pork Tenderloin with Pete (Recipe Here) (Transcript Here)
Roast a Chicken with Pete (Recipe Here) (Transcript Here)
Deboning a Chicken (Transcript Here)
Dive in deeper:
Get cooking with the whole family!
Discover nourishing recipes at Unlock Food or cookspiration.com
Find trust-worthy food safety info with Health Canada.
Try tools and tips for Menu Planning and Eating on a Budget.
Join our dietitians in mini-episodes on mindful eating and mental wellness, and connections with systems. Discover tips to reduce food waste, and ways to help make healthy eating easier. Learn about ways we can reduce household food insecurity in our communities.
Experiment with Mindful Eating with Luisa (Transcript Here)
Learn about Nutrition and Mental Wellness with Lauren (Transcript Here)
Dive in deeper:
Visit Love Food Hate Waste to rediscover the value of food, and explore tips, videos and recipes to reduce food waste.
Ask for change! Learn about how schools can make healthy eating easier, at www.brightbites.ca
Go to Ontario Dietitians in Public Health – No Money for Food is Cent$less to learn about the important issue of food insecurity– and what we can do about it.
Explore food support options, and local food in Peterborough.
Connect to Food Support in Peterborough through the City's food support page, or Food in Peterborough.
Find local farms, stores, restaurants and wholesalers at Peterborough Farm Fresh or Kawartha Choice.
Visit Local Food Peterborough, your community guide to local food throughout the Peterborough region.
Find ways to connect with your community.
Get involved with the Nourish Project – a local project with programs dedicated to eating, cooking, growing, and advocating for good food.
Volunteer with Food for Kids Student Nutrition Programs and make a positive impact in our community!
Participate in the Peterborough Food Action Network (PFAN) – a network with a vision that everyone in Peterborough City and County will have enough healthy food to eat as part of a long-term food security strategy.
Chat with ConnexOntario for 24/7 access to health services information about mental health supports, addictions services, and more.
Find a Dietitian in Peterborough to support you with advice and information for your unique needs.
Visit Peterborough Public Health to find info about clinics, services and health in Hiawatha and Curve Lake First Nations, and the County and City of Peterborough.
Learn about facilitated food literacy classes with Peterborough Public Health or connect with us at ccwu@peterboroughpublichealth.ca
We Would Love To Hear From You!
Acknowledgements:
Let's Talk Food Literacy is based on the framework developed by Food Literacy for Life (the locally driven collaborative project, Healthy Eating team, supported by Public Health Ontario). Visit them at www.foodliteracy.ca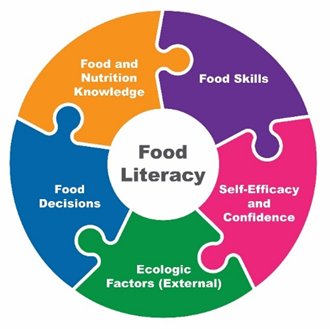 Food Friday
Simple tips for preventing food waste and saving you time and money while shopping, prepping, and cooking meals. Find full recipes below.
Instructions